🚶Monday: To the Silvretta Hut
We start our Silvretta tour by hiking up to the Silvretta Hut after getting Marijn a new pair of crampons.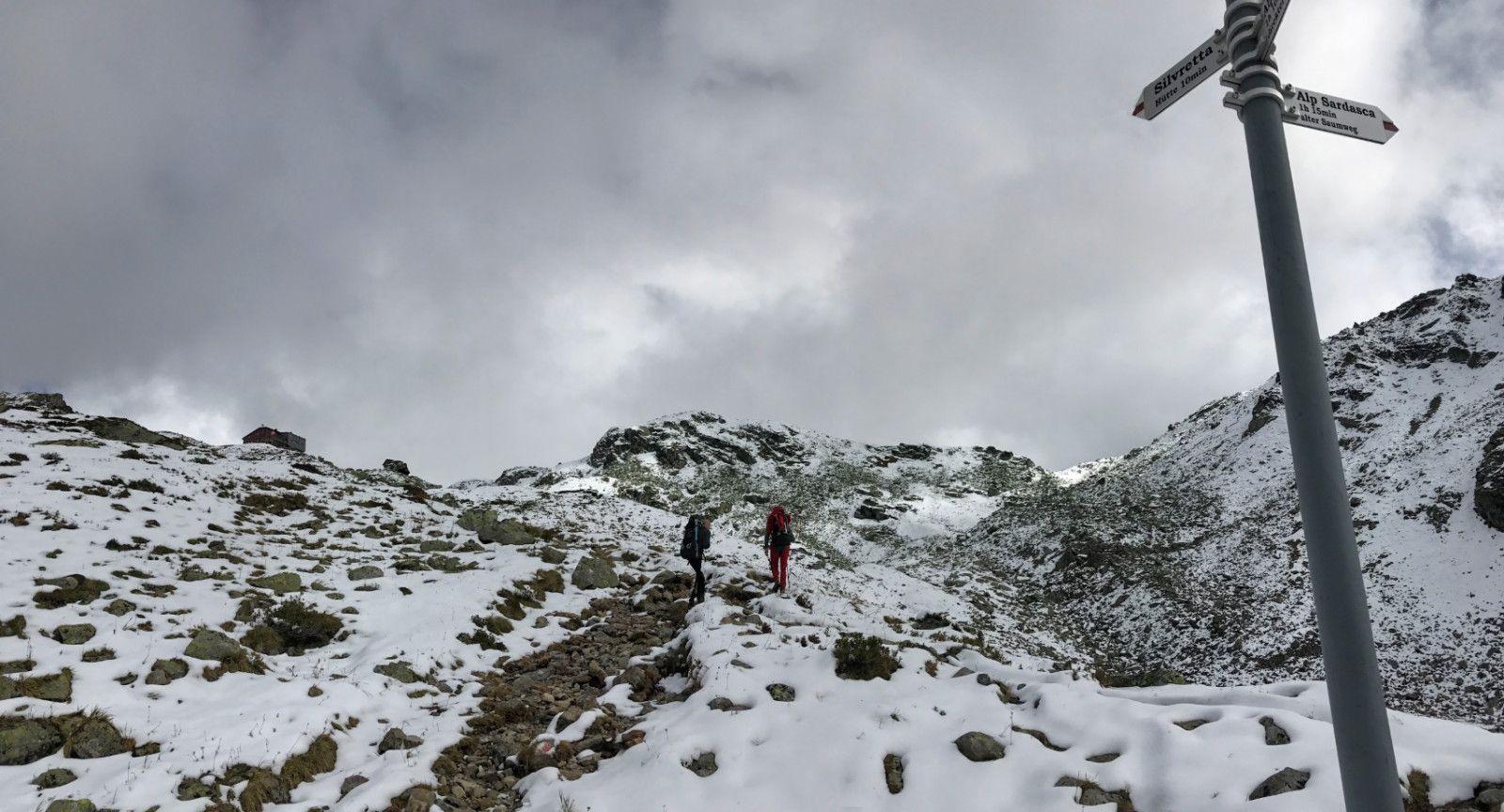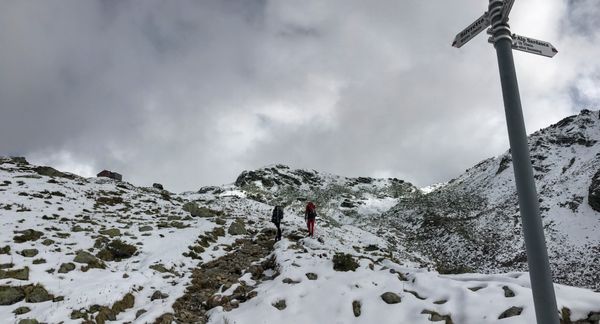 Up at 7 am after a restful night. Woke up at ~1am to go pee to discover it was raining slowly but steadily. At 4am I woke up feeling awake. Oh oh, jet lag! No rain anymore though, that is a plus. Finished yesterday's pizza. Surfed the web and fell back asleep by 5am.
Breakfast was a delicious combination of juice, coffee, tea, yogurt and more. Snow levels had descended overnight to just below tree line (~2000m). Clouds covered most of the sky.
Checked out and headed for the sports stores to find replacement anti-snow plates for Marijn's crampons. Had to take the postbus to Klosters Dorf.
No replacement available unfortunately, the model is too old. Marijn left the store with a new pair of Petzl crampons. Siemen made it easy for him by offering to buy the pair Marijn had lend him. A good thing too, given how expensive gear (or anything else for that matter) in Switzerland is.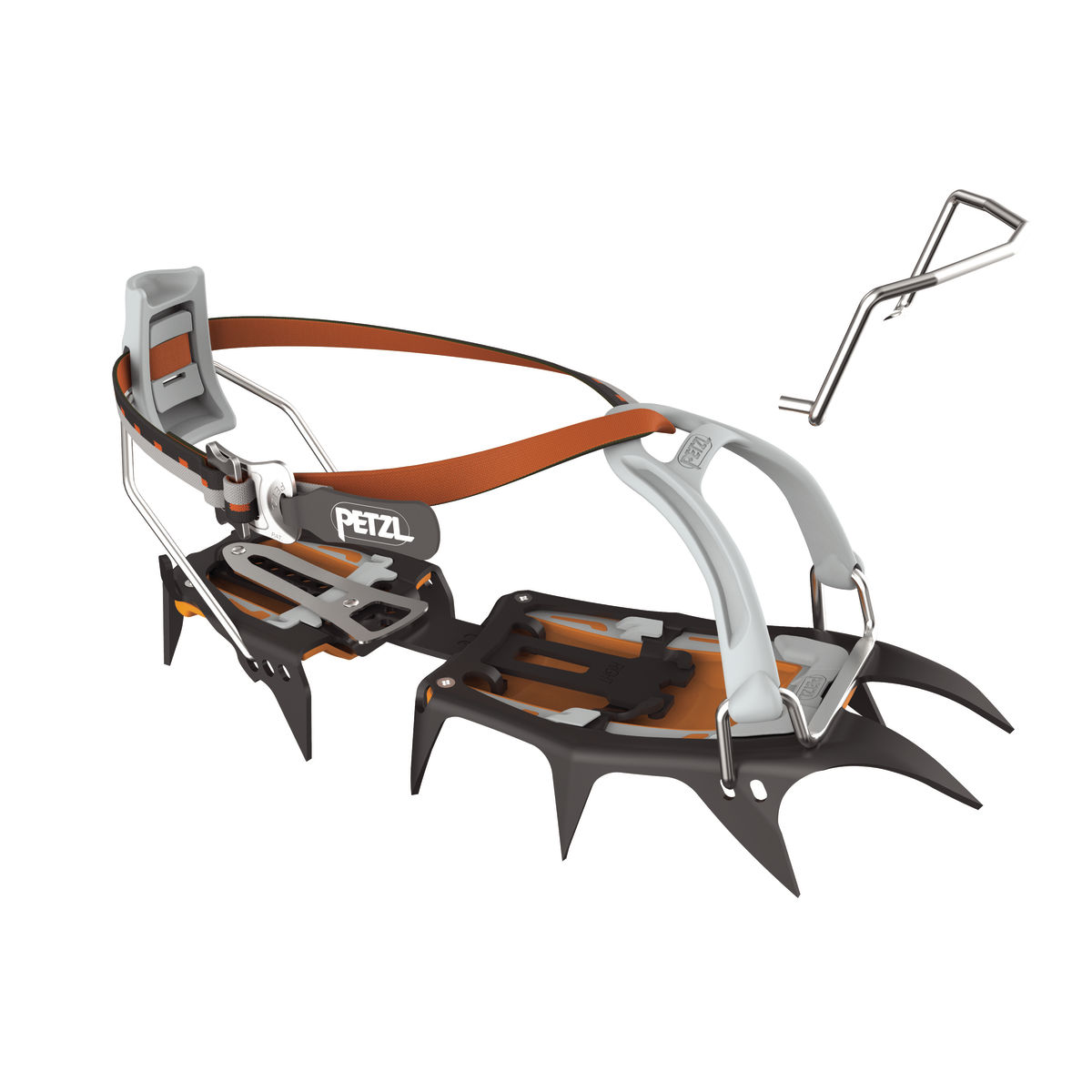 Two postbus rides later we reached Monbiel, the start of our hike to the Silvretta hut. The weather was better than forecasted: cloudy and sunny. No other hikers but plenty of e-bike riders. And a handful of hunters.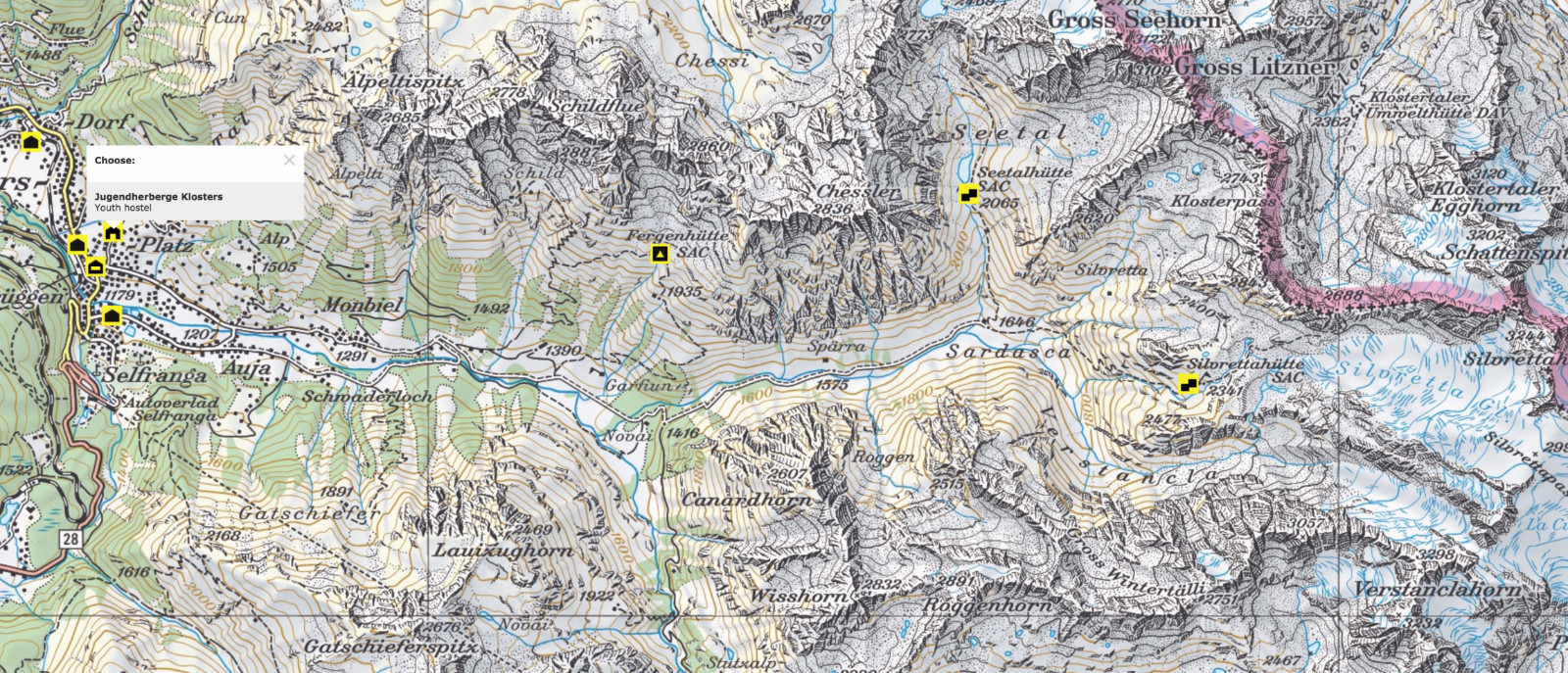 Climbed steady from 1300m to 1650m in the first 2.5 hours. Stopped for a break with hot tea from Marijn's thermos.
From here we climbed up steeply in almost balmy conditions. We all suffered from the altitude. In addition I was still low energy and working hard to suppress my violent coughing fits.
Made it to the hut by 15:40 (3:40pm), ready to be done. We're the only guests. Beautiful hut, lovely expanded and modernized over the years. The original hut build in 1865 (3rd SAC hut to be build) stands adjacent.
Celebrated our arrival with a Radler each (beer mixed with 7-up). Quickly looked at our options for the coming days. Which routes might be possible, and under which conditions. Inquired about local conditions on the glacier. The hut's warden Marco Bros was very helpful with information about the Fuorcla dal Canfin, a pass we plan to cross later in the week.
Dinner was a lovely squash soup followed by pasta marinara and a salad. To our surprise dinner was rounded off with ice cream!
It started snowing as we eat our ice cream desert (around 7pm). Early bed time for all again tonight: 8pm.
Breakfast will be at 7am.
---
Monday's topo