Silvretta
❄ Tuesday: Silvretta Hut to Wiesbadener Hut
We cross over the Rote Furka from the Silvettra Hut into Austria. Because of fresh snow we go to the Wiesbadener Hut instead of the Saarbrücker Hut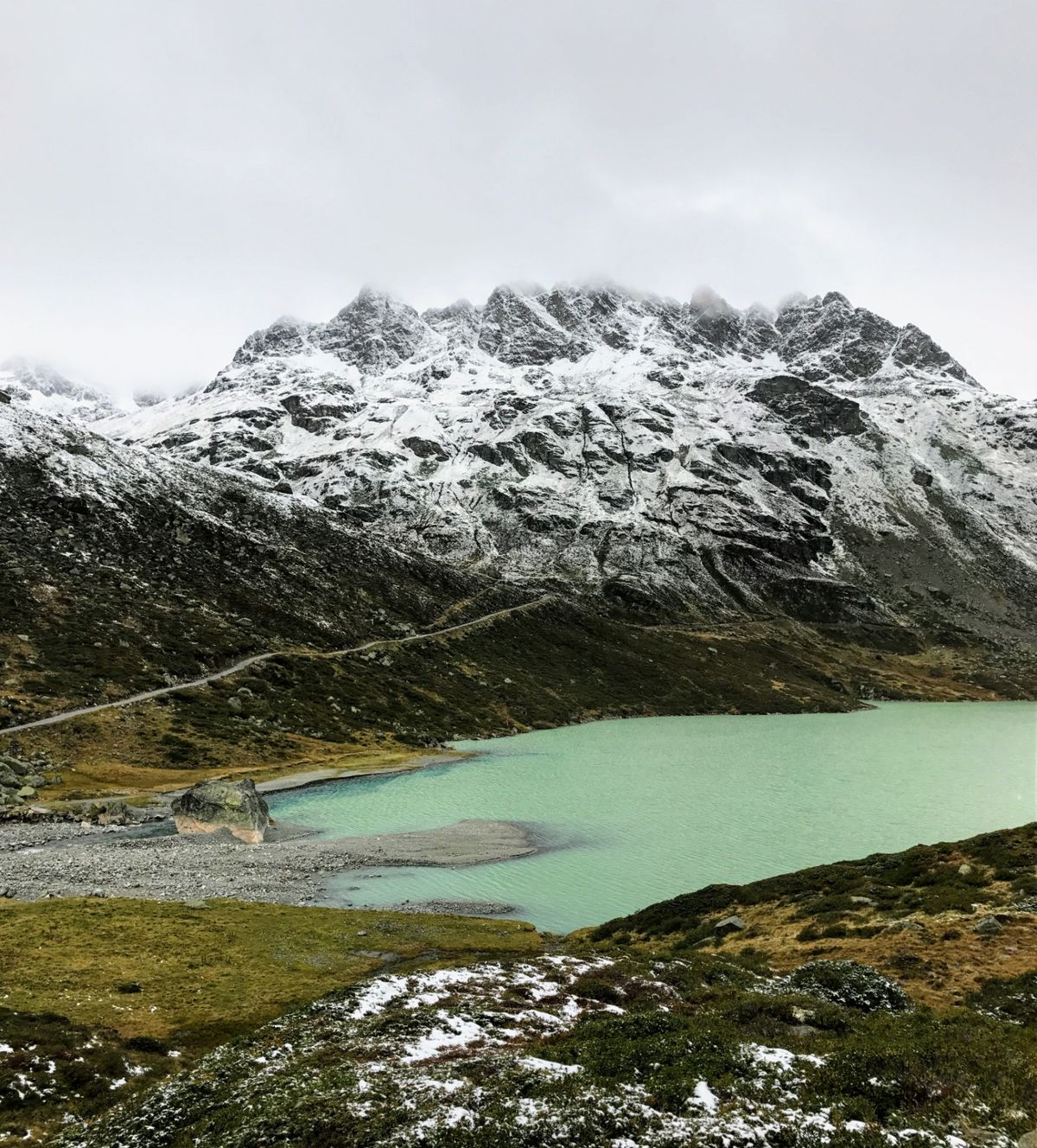 Breakfast at 7 am was wonderful! Yogurt, fresh bread with cheese and porridge with pear.
We say our farewell to the "Wirtin" and head out into a black and white world.
We located the trail and start plodding through the fresh snow. We find our way from one trail marker to the next. Soon it starts to snow. Lightly at first when we're approaching the junction to the Rote Furka.
Climbing through the boulder field snowfall intensifies with the increase of technical difficulties. The terrain steepens and the rocks are covered with water ice underneath the fresh show.
We make it to the pass where the emergency hut is locked.
Without shelter, we move on down the other side into Austria. Progress remains slow as snow the hides the boulders from view. Every step is a challenge.
Slowly but surely we descent into the Klosters valley. When we reach the valley floor snowfall reduces to a light dusting. We make our way over to the unmanned Klosters hut which we find open.
With shelter from the elements, we finally have an opportunity to rest, eat and drink.
Rather than going back up to go over another pass to the Saarbrücker hut we've opted for the Wiesbadener hut instead. Descend to the Silvretta Stausee and back up to the Wiesbadener hut on an easy trail. This avoids the painstakingly slow progress at higher elevations.
We bump into a German team of 4 Climbers while hiking up the road from the Bielerhöhe to the Wiesbadener hut. Is it just me or are we trying to stay ahead of them? In some kind of silent unspoken challenge?
We make it to the Wiesbadener hut in 3:15hr sweaty and happy to be done. The hut hasn't changed much in 20+ years since my last visit. Yet I don't recognize much. My poor memory. They one thing that I do remember is the cold almost unfriendly atmosphere of the hut.
We check in and get a lager to ourselves. The only other guests are the 4 Germans who aim to do the Piz Buin tomorrow. We settle on the Dreilander Spitze for tomorrow's goal.
---
Tueday's Topo