🌄 Friday: Leaving Winter
Returning to Klosters from the Silvretta hut we're leaving winter behind. A lovely hike in late summer weather, through a valley where the leaves are turning.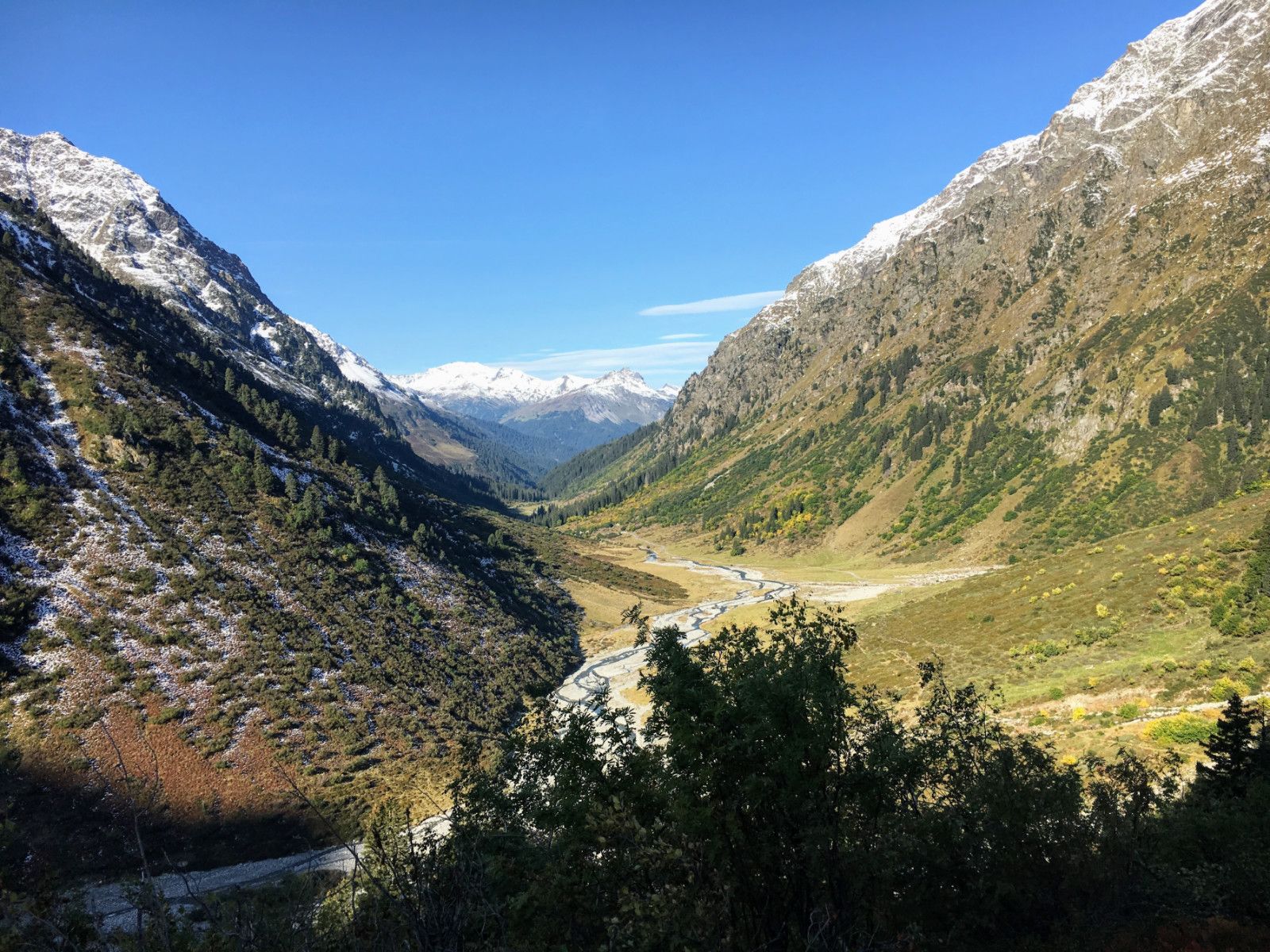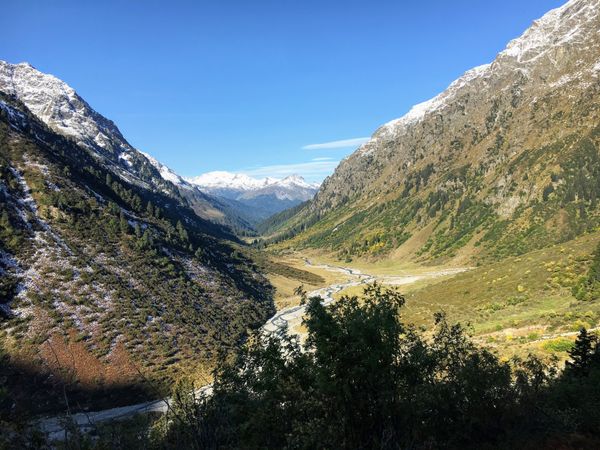 We are in no hurry today. All we have to do today is hike back down to Monbiel. The weather is still lovely. The sunrise rivals last night's sunset.
At 8:30 am we say goodbye to the warden after another tasty breakfast of bread, cheese, coffee, and tea. The snow is frozen firm and crispy. At first, there is some black ice from yesterday's melt, but soon it is just snow or dry ground.
We're practically flying down the mountain. At least compared to our first day coming up this stretch. I have so much more energy! (Being acclimated and no longer sick will do that.)
We take our first break at the alp below the big climb. Hunters are again looking for game. We're all enjoying this beautiful valley with it's turning colors and snow-capped mountains. I think no one wants it to end.
Which is perhaps why we sit down at the restaurant in Untersäss for an overpriced drink. (€5.50 for a Radler!) It is good to just sit in the sun for a while though. I notice something visiting the flowers bordering the deck and at first glance, it looked like a hummingbird, but on closer inspection, it is a moth: The Hummingbird Hawk-moth.
We hike the last 45min to Monbiel where we meet the bus just add it pulls up. Perfect! A short bus ride followed by a steep climb brings us back to the hostel in Klosters. We sort gear and take glorious showers. It feels so good to be clean. It turns out we can order dinner at the hostel for €17.50/pp, which we immediately do.
We make a beer and snacks run to the co-op. I make contact with the home front now that I'm back in WiFi range. Everyone is happy all went so well. We chillax on the hostel's deck until dinner.
An odd Dutch woman checked in who talks to herself. Apparently, she can stand my coughing[1] (neither can I) and starts bad-mouthing me. Neither does she like my story involving a transsexual. She called out loud how disgusting that is. ¯\_(ツ)_/¯
After dinner, we play pool until past hiker midnight (9 pm). The coin mechanism stopped working so we got to play for free.
I highly recommend the hostel in Klosters, super friendly and accommodating.
---
Friday's topo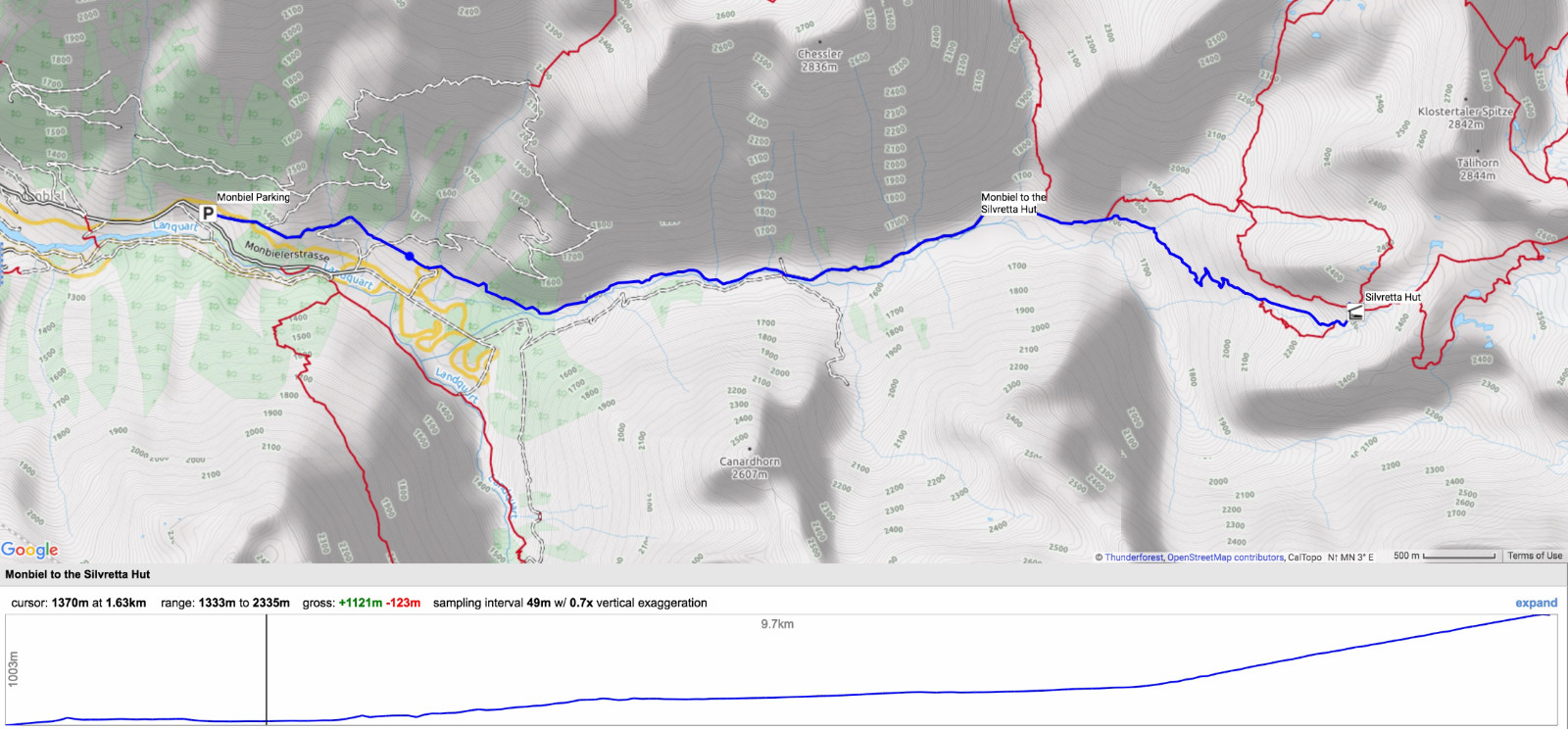 ---
I developed a deep persistent cough after my fever broke and never got to shake it. It evolved throughout the week and got less severe but it is still with me. ↩︎