🗻 Greater Northern Loop - Day 1
🏙 We arrive at SeaTac. 🗻 Plan our permit for the 📝 Greater Northern Loop. And make ⛺️ camp for.the night just outside Mt Rainier NP.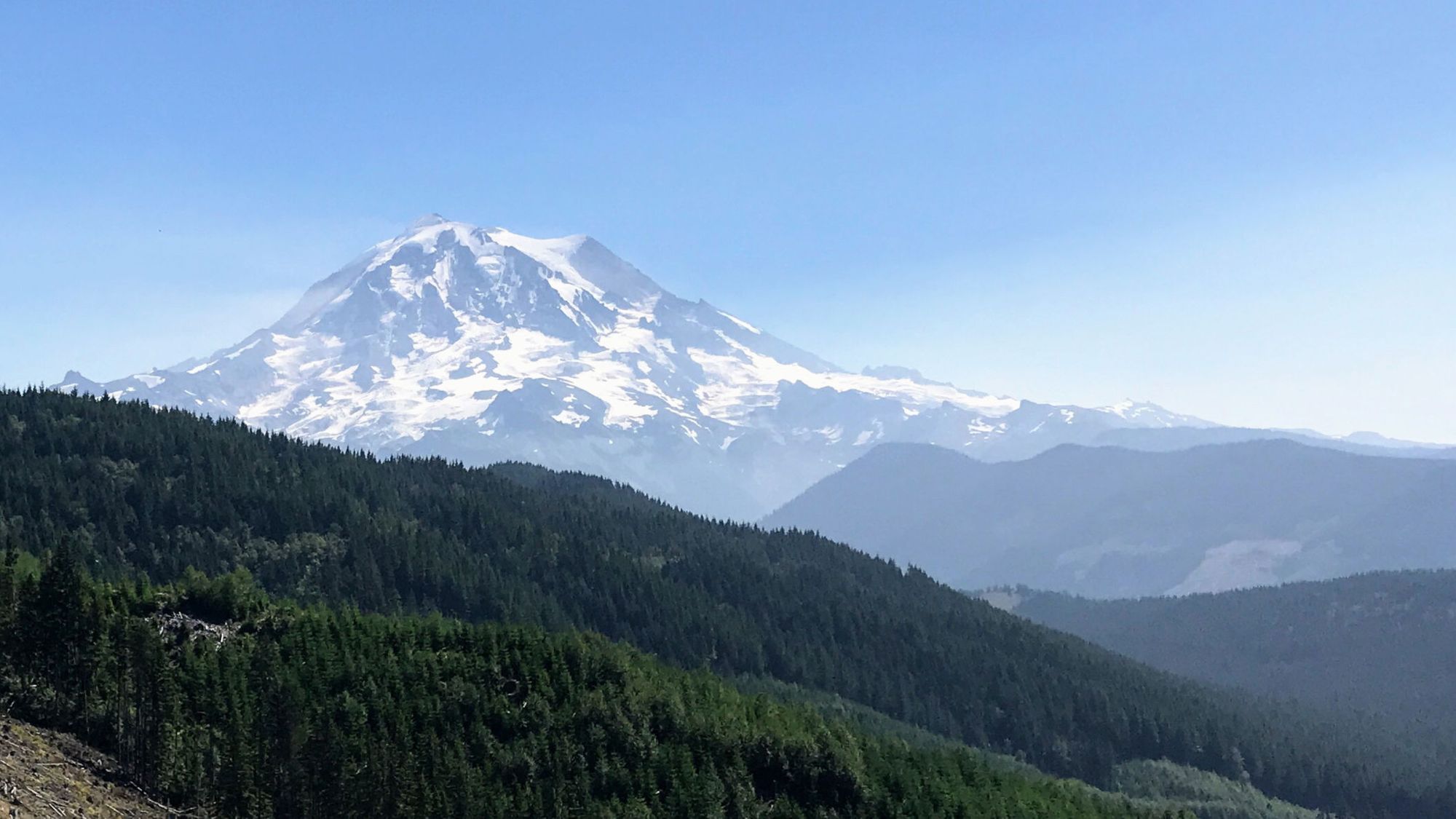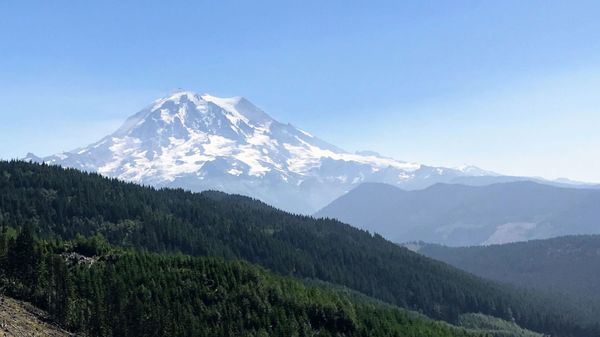 | Date | Start | End | Trip 🚶miles | Today's 🚶miles |
| --- | --- | --- | --- | --- |
| 2018-08-17 | Soquel | Buck Creek Campground | 0 | 0 |
🏙 Arrival at SeaTac
Despite our early arrival at SeaTac, we didn't hit the road until the afternoon. We had several stops to make before we could head into the wilderness. Propane for the stove at REI, followed by breakfast and grocery shopping at a local health food store and Trader Joe's.
We make a last stop in Enumclaw, the last town before entering Mt Rainier National Park, where we stuff ourselves at the Kettle, with portions so big we couldn't finish them. After lunch we made one last supply stop at the local Safeway and drove off into the Baker Snoqualmie National Forest.
An hour and a half later we reached the White River/Sunrise entrance to Mt Rainier National Park. The White River Wilderness Information Center is immediately inside the park. With only an hour left before closing time, we stumbled bleary-eyed towards the counter, hoping to score a week-long wilderness permit for the Greater Northern Loop.
🗻 The Greater Northern Loop
The Greater Northern Loop is an extension of the Northern Loop Trail on the north side of Mt Rainier. Originally we'd wanted to hike the Wonderland Trail but missed out in the permit lottery. Walk-in permits for the Wonderland Trail are very hard to get, especially when you can't be flexible with start date and/or the number of days on the trail.
Map of the Greater Northern Loop.
The Greater Northern Loop is a perfect alternative for us. It is less popular, making wilderness permits easier to come by. It is shorter, allowing for more relaxed hiking. We learned from our John Muir Trail thru-hike, that Casper can do 12 miles/day but wouldn't want to that kind of mileage again. At ~48.6 miles, the Greater Northern Loop would break down to 6 miles/day over 8 days. And because the loop is a figure of 8, we have more flexibility in how we hike the loop. We can hike each loop of the figure of 8 either clockwise or counterclockwise. That gives us 4 different combinations to find a permit for.
📝 Getting a Wilderness Permit
At first, our chances didn't look good. Both Rangers' initial response was: You're never going to find an itinerary for the Greater Northern Loop. And: All sites for tomorrow are taken.
Undeterred we poured over the map and consulted the laminated distance table on the counter. First: we didn't need to start tomorrow. Secondly: we can also do our loop in as little as 7 days. If we made sure to be first in line tomorrow morning, we could get a permit for a Sunday start (i.e. the day after tomorrow). Plus we can hike a figure of 8 loop in a number of different directions, which gives us more flexibility.
And little by little, with the help of a very patient Ranger we stitched an itinerary together. Casper wasn't happy that some of the days exceeded our goal of 6 miles/day (~10km/day). Our average ended up near 7 miles/day, with some low mileage days on which we could take it easy.
An hour after we had entered, we left the backcountry office with a recipe for the desired permit in hand, determined to be first in line the next morning. But first, we needed to find a campsite.
⛺️ Setting up Camp
As expected, the White River Campground was completely full on a Friday evening in summer. Luckily, the Rangers had tipped us off about Buck Creek Campground, a primitive campground outside the park next to the Ranger Creek State Airport.
There we set up camp with an alpine start in mind. We were not going to leave getting our permit up to chance and set the alarm for a 3 AM. 😴