Silvretta
🗻 Wednesday: Dreilander Spitze
An out and back trip to the Vermunt glacier in deep snow. We're slow but having fun.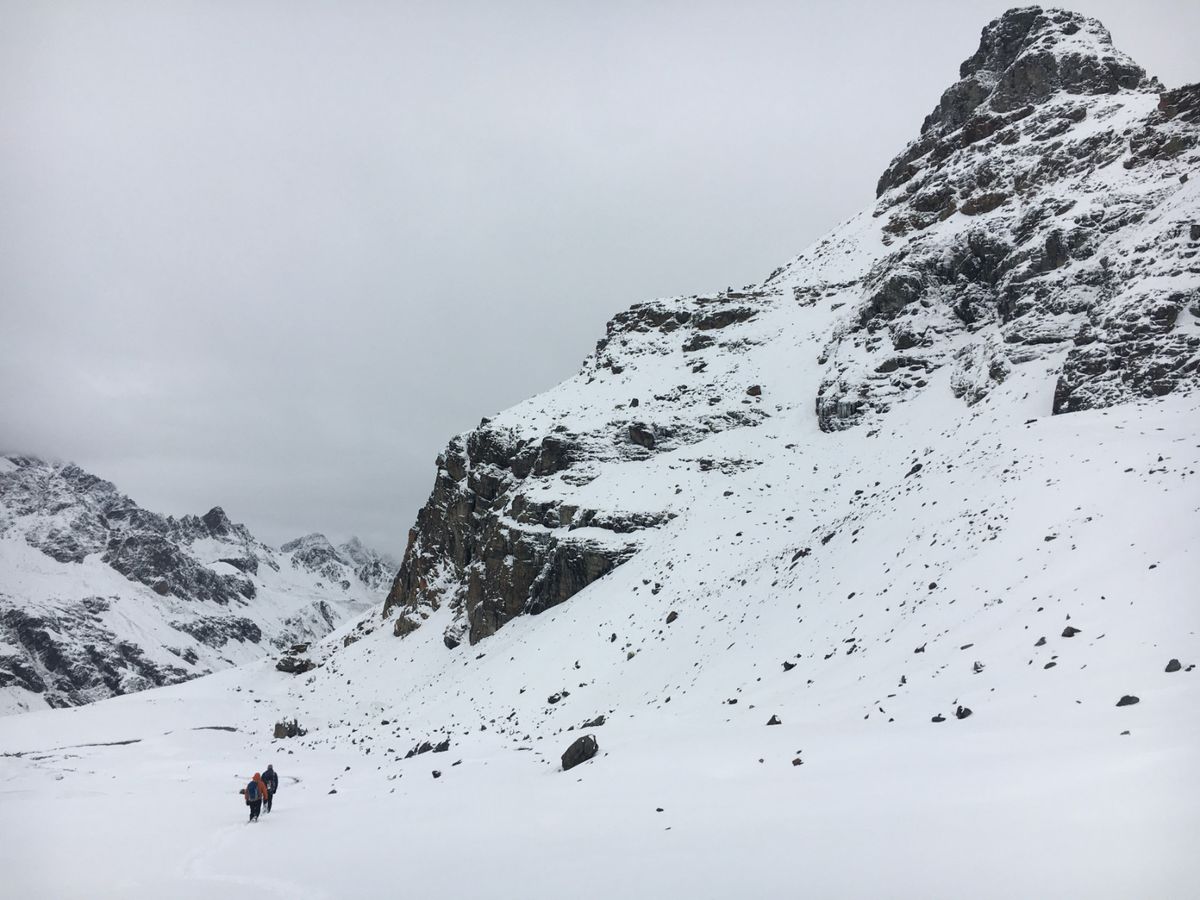 Our first "out and back" tour means we get to leave things behind and travel lighter today. No solar panel, misc. cords, silk liner, down jacket, etc.
Breakfast at 7 am consists of yogurt with muesli, dark rye bread with cheese and tea.
The weather hasn't changed much. Still no views, still lightly freezing. At least it doesn't snow anymore. So we set out in the direction of the Ochsenscharte (2913) in hope of the clouds lifting. If all goes well we might check out the instep of the Dreilander Spitze summit ridge. There is too much snow to attempt even the easiest rock climbs.
The German team of four sets out 30min before us. Their plan is to climb Piz Buin and then cross over into Switzerland via the Fuorcla dal Cunfin. They have a long way ahead of them. Unfortunately, they immediately miss the trail and descend more than necessary. No big deal but an energy waster nonetheless.
With last night's additional dusting, finding and hiking the trail to the Vermunt glacier is even harder than yesterday. A stretch that wouldn't take more than 1hr without snow takes us 3 hours! The snow generally is about 20cm (8") deep but can be 60cm (24") deep in windswept spots. Breaking trail is exhausting. We switch regularly and still, we're progressing very slow.
After nearly 3 hours we break for tea. Though dry, the weather isn't improving much. Visibility remains intermittent with only occasional glimpses of the mountains surrounding us. The views, when we get them, show everything plastered with snow, even the (near) vertical parts. Rime covers everything. It is clear that there will be no rock climbing on the summit ridge to the Dreilanderspitze.
We finish the delicious hot tea and plod on until we reach the Vermunt glacier. There we decide to turn around. It is rather pointless to continue with no views and no summit option. We're happy with our outing and turning around doesn't sting.
With our own tracks to follow we return much quicker than it took us to hike up. (Going downhill also helps.) There are several new faces back at the hut. Mainly day hikers from the Bielerhöhe.
More warm tea to rehydrate and then it is time to practice crevasse rescue for tomorrow's glacier crossing on the Ochsentaler glacier. We decide on 2 knots between each other and a distance of about 18m between one another. The first and last person take the remainder of the rope, about 10m each. Bart will be the middle man as he has the most experience holding falls and with the subsequent rescue. We practice the Seilrolle-Flaschenzug (Z-rig) until everyone is comfortable with this rescue technique.
We find the German team back at the hut when we're done practicing. They also ran into a lot of snow. On their way up they bailed on their plan to summit the Piz Buin and aimed to "just" cross the Fuorcla dal Cunfin to the Tuoi hut. However, the poor visibility and the heavily crevassed glacier made them turn around just before the Fuorcla. Bummer for them, but good news for us as we now have a trail to follow when we're going over the Fuorcla tomorrow.
Three new guests tonight. An Austrian who came up to ice climbing at the bottom of the glacier, another Austrian for some solo climbing and an Englishman hiking hut to hut.
Schnitzel for dinner with Apfelstrudel for dessert. Yum! As always early to bed, tomorrow will be a big day. The weather forecast continues to predict "super weather"!
---
Wednesday's Topo